Website Redesign
Refresh your website, rejuvenate your brand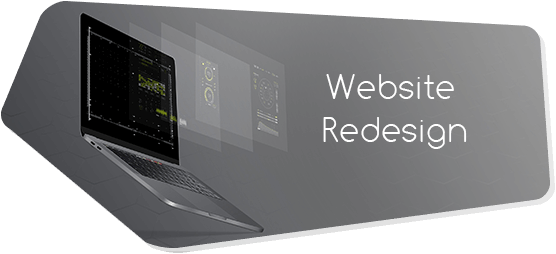 We specialise in creating aesthetically pleasing & functional websites. User experience is the most important consideration alongside realising your vision for the brand.

Web Redesign
180 successful projects to date & counting...
Caliston Web Design
Why redesign your website?
Websites have a shelf life of 2-4 years maximum. Once that time has passed they demonstrate visible signs of performance reduction. They also often have traffic issues. A redesign can not only take a fresh look at the brand but also boost search engine performance and drive more revenue.
Branding
The first question one always has to ask is if the website represents the brand accurately. More often than not, the case is that the website under-represents the brand, hence hurting revenue and sales. A website accurately representing a brand can yield 50% to 300% better results.
User Experience (UX)
Looking at previous statistics and analysing the business can offer much insight into what the users want, and how they can go about getting the experience they need to build trust, a connection with the brand and eventually a transaction which will convert them into a customer. Figuring out this journey is by no means easy, so we focus a lot on analysis to bring to your users, the best possible solutions online.
Mobile-First, not just in words
Mobile-First is something that many companies advertise and few adhere to. Focusing on conversion rate means that we can be creative to get results across any industry. Our projects are always focused on mobile customer's needs.
Your customers will be the ultimate judges of any successful web design project. Take advantage of our highly experienced team to redesign a new superior web experience for your audience.
Why Caliston Web Design?
We only have 3-4 seconds to convince the visitor to stay
Communicate your brand values & Unique Selling Points
Turn visitors to buyers with only a few clicks
Caliston Design combines creativity with statistical analysis to deliver projects that create profitable businesses online. From planning to execution our focus is on your future customers. They will vote with their trust and generate the success required to build and grow a business.

We use our experience and market knowledge to understand your business intimately. This results in a website that accurately represents the brand and inspires confidence for buyers.

What We Do
Our design process
Understand your business
Understand your audience
Create a project plan
Redesign for your customers
Ensure a secure & fast web experience
Deliver on time & budget

Client Testimonials
Past & Present
Thank you for this beautiful, functioning, proper tidy website. You guys are brilliant. "
Record Label
Caliston Design delivered a website that performs well in Google and works for our customers who find it simple enough. Highly recommended. "
Medical Diagnostics
THANK YOU to everyone is working on the website. Website front page is brilliant, more then I can imagine. I like it very much. Brilliant!!!!"
Aesthetics Beauty
Our relationship with Caliston Design has helped our online marketing visibility grow immeasurably in a highly competitive sector since 2007. They understand healthcare and are true...
Our relationship with Caliston Design has helped our online marketing visibility grow immeasurably in a highly competitive sector since 2007. They understand healthcare and are true website design experts..."
Medical Centres
Alya Shakir,
Managing Director
Harley Health Centre

Frequently Asked Questions
How long does it take to redesign a website?
The answer to this question largely depends on the size of the project but for most medium-sized websites the duration is between 3-6 months.

The total duration of the project also depends on your ability to submit text content and image selection in a timely fashion, unless otherwise agreed.
Will my website be optimised for search engines?
We can guarantee that our designs and content planning will increase your website's traffic in the medium and long-term.

If increasing traffic is very important to you, it is highly recommended to follow up on your website re-launch with an SEO campaign.

Pricing overview
Our popular web design programs